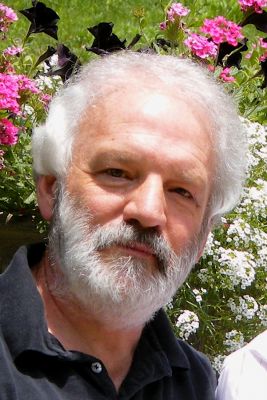 Drawing is the foundation of any work of art. Leonardo said, "Not a day without a line." I try to follow that axiom. Knowing since I was five I wanted to be an artist. I have taken a circuitous route to get here.
I love the begining of a mural project, standing in front of a large blank wall and envisioning how it will all come together. Even though you work from preliminary sketches, the first charcoal lines you apply give you a thrill. Then step by step you guide the scene to completion.
I now have the same feeling when I start smaller works on canvas. I am pushing myself to become a better painter all the time, by working longer in the studio and studying the past masters in museums and books.
To most young boys, growing up in a small town in Western Pennsylvania meant a future laboring in a local steel mill, with the cheers of sports fans echoing through their dreams. Paul Means chose a different path. As early as age five, Paul knew with all the certainty and optimism of a childhood dream that he would be an artist. And he has never lost sight of that drive. I remember, early on, making copies of drawings. I was teaching myself hand-eye coordination, and I was drawing a lot of the time and developed the ability to copy almost anything,Paul recalls. Later, after a stint as a sign painter in the Air Force, Paul obtained some formal training at the now defunct Ivy School of Professional Art in Pittsburgh, PA. This training expanded his skills in color theory, design, and composition, allowed him to experiment in many media and styles, and provided him sufficient confidence in his abilities to turn his dreams into reality. Paul credits the small school emphasis on drawing the human figure with teaching him that, The key to drawing is seeing, and the key to painting is drawing. His figure-drawing teacher, Norman Rice, a former Dean of Fine Arts at several prestigious schools (The Art Institute of Chicago, Syracuse School of Art, and Carnegie Tech (now Carnegie Mellon University), became his mentor. Paul remembers him fondly: He was old school " a tall, soft-spoken gentleman with an eye like the eye of Sauron from The Lord of the Rings. You could not hide anything from him. We formed a bond right away, not because I was good, but because I had the drive to learn.
Thirty years later, Paul still has a drive to perfect his craft, though rarely in a formal classroom setting. Working for a church restoration company for several years allowed Paul to gain the skills of a classic craftsman gold-leafing, wood graining, and marbleizing but it also allowed him to work with a team of artists on large-scale murals, mosaics, and Trompe LOeil. Drawing from that experience, for many years, Paul has been self-employed as a decorative artist and muralist. His numerous residential and corporate commissions include such diverse topics as a 10 by 15 foot mural of a Mennonite Barn raising installed in a restaurant in the Pennsylvania Dutch countryside; two 23 foot long landscapes of Alaska and Africa created as a backdrop for a big game hunters collection of trophies.The same man asked him to paint five, 400 square foot murals in his new house. For a different client he painted Italian scenes in a breakfast room one of Florence, bathed in the golden glow of sunset and the other of San Gimignano, with the quintessential field of sunflowers in the foreground; and a coral and reef scene on the wall of an ocean-front condominium in the Bahamas. A partial list of his clients include executives from H.J. Heinz Co., Alcoa, and U.P.M.C, as well as numerous attorneys, doctors, investment bankers, and some prominent Pittsburgh sports figures. Able to easily match any style his clients' desire and to provide a decorative element to echo their dreams, Paul's true love remains capturing on paper or canvas those scenes that speak to his own soul.
Paul interests include painting scenes that have their roots in historical subjects, such as can be seen in his Civil War representations; however, he draws inspiration for most of his paintings from nature. Whether encountered during his travels to Europe and throughout the United States or in his own backyard, Paul first captures moments in time through photographic imagery. Then he uses a strong color palette and lighting effect to transform the subjects of his photographs into drawings, oil paintings, and etchings, always seeking to follow the advice of Impressionist, Camille Pissarro, who wrote:
Paint the essential character of things and try to convey it by whatever means possible, rather than being preoccupied with the medium. Do not adhere to rules and principles, but paint what you observe and feel. You must paint confidently, expansively, without hesitation to retain the primary impression. Do not stand in awe of nature for you must be daring even at the risk of deceiving yourself or making mistakes, and it is essential to have one master, that is nature, whom you must always consult.
Paul currently resides in his hometown, Butler, Pennsylvania, with his wife and son in their lovingly restored Victorian home.